About the Artist
Section header title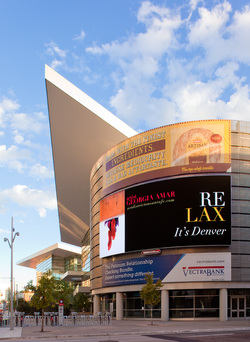 Georgia Amar was born in Mogador, Morocco and started painting at the age of 13. She studied at the Alliance Française in Morocco and Israel earning a French Baccalaureate. Ms. Amar achieved a Baccalaureate in philosophy and literature at York University in Toronto, and acquired her Baccalaureate in education and her teaching certificate at the University of Toronto.

The artist is proficient in the mediums of oil painting, screen-printing, stained glass and 3—dimensional murals. Georgia Amar's landscapes, created during a 35—year observation from her property overlooking Lake Ontario in Canada, are in corporate and private art collections in Europe and North America.

In 1988 the artist designed and executed sixty—feet of stained glass, six glass doors and the eternal light for the Beth Tikvah sanctuary in Toronto, Ontario, using her unique laminated and layered stained glass approach.

Georgia Amar has exhibited her oil paintings, stained glass, and hand-pulled screen-prints in art galleries in Toronto, New York, Atlanta and Denver, and her art resides in an extensive list of corporate collections.

Since 2003 the artist has owned and operated her Georgia Amar Fine Art gallery and studio in Denver's Art District on Santa Fe, a nationally known art district guided by her and her husband Jack D. Pappalardo.

Georgia has taught art extensively, serving as a teacher at Toronto Collegiate, as camp director of Art Camp Amar in Ontario, Canada, and at her popular art gallery in Denver, Colorado.

The Feet of Hirshhorn's Granddaughter, oil on plywood, 24" x 36", 1982 (Pictured above on the LED screen on the Colorado Convention Center in the downtown Denver Theatre District. Photograph by Cheryl Opperman.)

In 1975 Georgia Amar built an A-frame loft on a hilltop property she hand—selected for viewing sunsets over Lake Ontario. As word spread in Toronto of the artist's unique and inspiring place, friends, actors and celebrities would arrive for contemplation and conversation with the artist. Her painting The Feet of Hirshhorn's Granddaughter depicts the artist's loft, viewed from below, with the dangling bare feet of the granddaughter of Joseph H. Hirshhorn, a wealthy Canadian industrialist whom famously donated his private art collection to the Smithsonian Institute's Hirshhorn Museum and Sculpture Garden in 1971.
---